Investing in real estate is one of the world's most venerable pathways to building wealth. When properly managed, income from renting or real estate investment trusts can provide you with the financial security to plan out the rest of your life. The conclusion is easy to envision, but knowing where to begin can be overwhelming, particularly for anyone who has never previously owned a home.
At Windermere our goal is always to improve and support our communities, so we've put together a few key things to keep in mind as you enter the world of real estate investment.
Know the right type of investment for you
Investing in real estate needn't commit you to being a landlord. A Real Estate Investment Trust (REIT) is a low-maintenance way to get involved in real estate with next to none of the day-to-day monitoring required of direct property management. REITs are trusts that typically own multiple properties, and investors may purchase shares within the REIT. Typically, as the value of the property rises, so too do the values of your shares. If you'd like to dip a toe into real estate investing before diving in fully, a REIT is a great place to start.
Start with your own home
Owning the roof over your head is a basic step towards investing success. Even better, when you plan to live in the home you're buying (rather than renting it out), you will likely benefit from lower mortgage rates and a cheaper down payment. The reasoning is straightforward – lenders see a loan to people purchasing the home they live in as an investment in people highly committed to the property.
Once you've owned your own house for a few years, you can look to purchase a new home to move into. By purchasing the new home with the intent to move in, you'll be eligible to receive more favorable financing once again. After you've secured your new home, your first home is primed to be transformed into a rental property, and you can continue to see a return on your investment. If you're seeking further support with buying a first, second, or third home, our website and our agents are full of information.
Cast a wide net
The best investment opportunity isn't always going to be right underneath your nose. While there are logistical benefits to focusing locally with your investment, you may miss more profitable opportunities in another burgeoning market. Real estate is a long game, and patience tends to be rewarded. There's no cause to rush a decision of this magnitude, so investigating other states and regions to find the property that best fits your situation is a process worth considering.
Right before the guests ring the doorbell or give the front door an old-fashioned knock, they step on your welcome mat. This mat serves two purposes: catching debris and adding style. Here are some ideas for how to give this entry detail a refresh.
Welcome Mat 1: Caela McKeever, original photo on Houzz
Say Hello
A lettered mat can help you say exactly what you want to say when someone comes to your door. Obviously, nothing says hello more than the word "hello."
The simple greeting might also draw visitors' eyes to the ground and remind them to take off their shoes before they step inside.
Coordinate Colors
If you have a colorful front door, use that as doormat inspiration. If your door lacks color, maybe it's time to paint it.
Door paint: Scarlet Ribbons, Dulux
Welcome Mat 2: Zack | de Vito Architecture + Construction
The whole mat doesn't need to match the door. This striped mat draws on other colors found on the home's exterior.
Welcome Mat 3: Rustic Porch, original photo
Think Outside the Rectangle
Many front doors feature rectangular doormats, but other options exist. The semicircle mat in the photo works nicely with the rustic rockers, porch swing, and shutters.
Welcome Mat 4: Garrison Hullinger Interior Design Inc.
Roll Out a Rug
A big, bold rug in front of the door adds color and life to this home's entry, designed by Garrison Hullinger.
A large porch rug can also make the space feel like another room of the house. If you add a few chairs, people can stop, relax, and enjoy the outdoors. Plus, more rug means more chances for it to pick up any water or dirt from the shoes of incoming guests.
Welcome Mat 5: Seattle Staged to Sell and Design LLC
Keep It Natural
If the entry is already bursting with details, such as eye-catching hardware and light fixtures, a neutral mat will help keep the attention on them. Natural doesn't have to mean boring.
Welcome Mat 6: Grandin Road, original photo on Houzz
Personalize the Space
This contemporary monogrammed mat is hard to miss. "Don't be afraid to choose a doormat with personality, says Kate Beebe of Grandin Road. "Work some wit and whimsy into your entrance, and choose something that will put a smile on your guests' faces."
She also recommends picking a mat that covers at least three-quarters of the entrance's width and allows the door to open easily.
Change With the Seasons
While you are changing the front porch decor, swap a plain doormat for a festive option.After the holidays, clean off your seasonal doormat and store it until the following year.
Make It Feel Like Home
Doormat options are pretty much endless, so it shouldn't be hard to find one that works for you.
Posted on February 16, 2019 at 11:41 pm
Carlene Sandstrom
Category:

Home Improvements, Homeowners, Tips
Tagged

Carlene Sandstrom, Eastside, Kirkland Real Estate, Live In Kirkland, Real Estate, Tips, Welcome Mat, Windermere, Yarrow Bay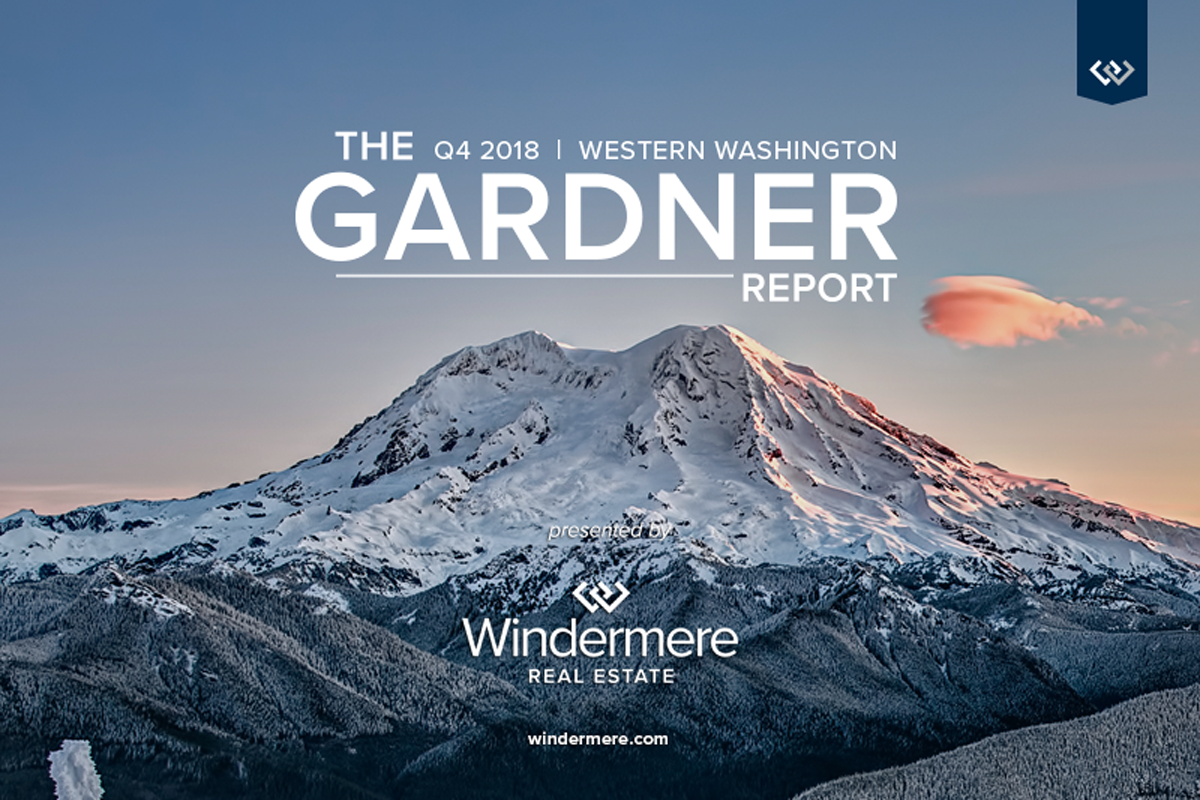 The following analysis of the Western Washington real estate market is provided by Windermere Real Estate Chief Economist Matthew Gardner. We hope that this information may assist you with making better-informed real estate decisions. For further information about the housing market in your area, please don't hesitate to me. 
ECONOMIC OVERVIEW
The Washington State economy continues to add jobs at an above-average rate, though the pace of growth is starting to slow as the business cycle matures. Over the past 12 months, the state added 96,600 new jobs, representing an annual growth rate of 2.9% — well above the national rate of 1.7%. Private sector employment gains continue to be quite strong, increasing at an annual rate of 3.6%. Public sector employment was down 0.3%. The strongest growth sectors were Real Estate Brokerage and Leasing (+11.4%), Employment Services (+10.3%), and Residential Construction (+10.2%). During fourth quarter, the state's unemployment rate was 4.3%, down from 4.7% a year ago.
My latest economic forecast suggests that statewide job growth in 2019 will still be positive but is expected to slow. We should see an additional 83,480 new jobs, which would be a year-over-year increase of 2.4%.
HOME SALES ACTIVITY
There were 17,353 home sales during the fourth quarter of 2018. Year-over-year sales growth started to slow in the third quarter and this trend continued through the end of the year. Sales were down 16% compared to the fourth quarter of 2017.​
The slowdown in home sales was mainly a function of increasing listing activity, which was up 38.8% compared to the fourth quarter of 2017 (continuing a trend that started earlier in the year). Almost all of the increases in listings were in King and Snohomish Counties. There were more modest increases in Pierce, Thurston, Kitsap, Skagit, and Island Counties. Listing activity was down across the balance of the region.
Only two counties—Mason and Lewis—saw sales rise compared to the fourth quarter of 2017, with the balance of the region seeing lower levels of sales activity.​
We saw the traditional drop in listings in the fourth quarter compared to the third quarter, but I fully anticipate that we will see another jump in listings when the spring market hits. The big question will be to what degree listings will rise.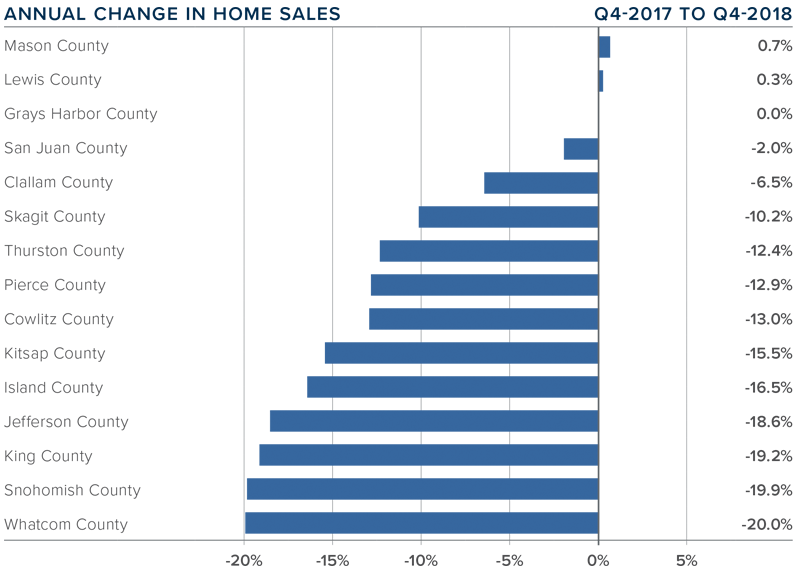 HOME PRICES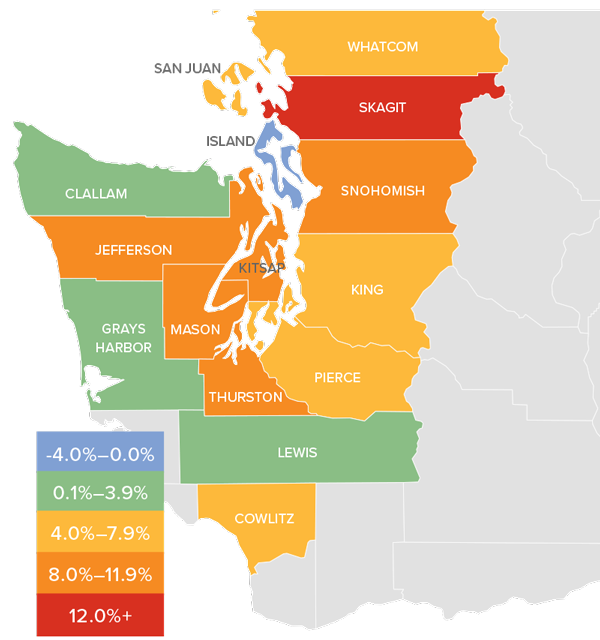 With greater choice, home price growth in Western Washington continued to slow in fourth quarter, with a year-over-year increaseof 5% to $486,667. Notably, prices were down 3.3% compared to the thirdquarter of 2018.
Home prices, although higher than a year ago, continue to slow. As mentioned earlier, we have seen significant increases in inventory and this will slow down price gains. I maintain my belief that this is a good thing, as the pace at which home prices were rising was unsustainable.
When compared to the same period a year ago, price growth was strongest in Skagit County, where home prices were up 13.7%. Three other counties experienced double-digit price increases.
Price growth has been moderating for the past two quarters and I believe that we have reached a price ceiling in many markets. I would not be surprised to see further drops in prices across the region in the first half of 2019, but they should start to resume their upward trend in the second half of the year.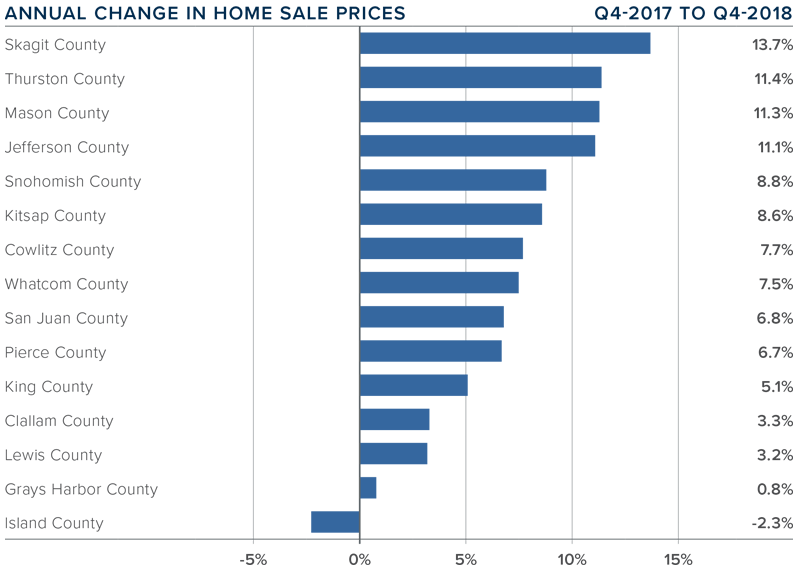 DAYS ON MARKET
The average number of days it took to sell a home dropped three days compared to the same quarter of 2017.
Thurston County joined King County as the tightest markets in Western Washington, with homes taking an average of 35 days to sell. There were eight counties that saw the length of time it took to sell a home drop compared to the same period a year ago. Market time rose in five counties and was unchanged in two.
Across the entire region, it took an average of 51 days to sell a home in the fourth quarter of 2018. This is down from 54 days in the fourth quarter of 2017 but up by 12 days when compared to the third quarter of 2018.
I suggested in the third quarter Gardner Report that we should be prepared for days on market to increase, and that has proven to be accurate. I expect this trend will continue, but this is typical of a regional market that is moving back to becoming balanced.​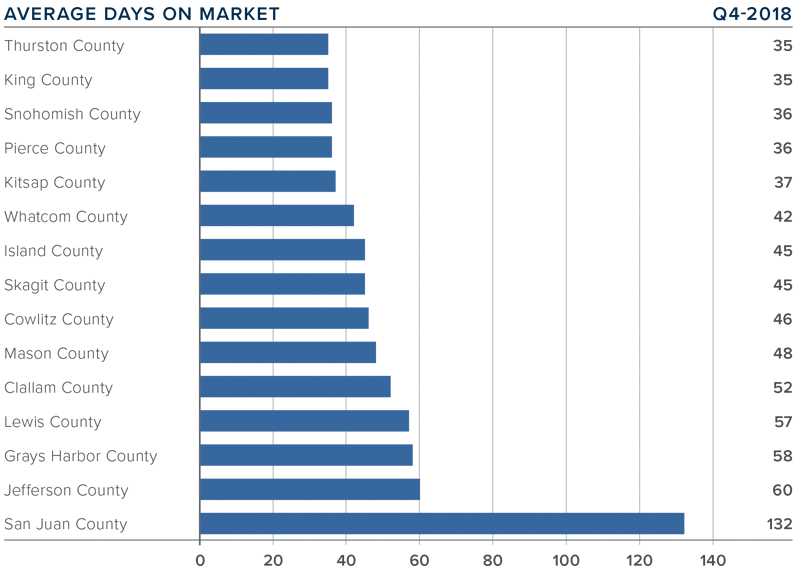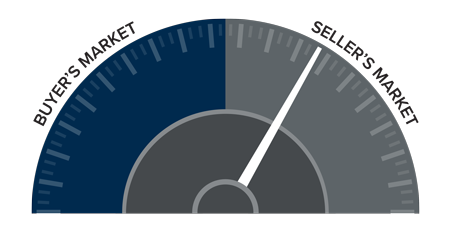 CONCLUSIONS
This speedometer reflects the state of the region's real estate market using housing inventory, price gains, home sales, interest rates, and larger economic factors. I am continuing to move the needle toward buyers as price growth moderates and listing inventory continues to rise.
2019 will be the year that we get closer to having a more balanced housing market. Buyer and seller psychology will continue to be significant factors as home sellers remain optimistic about the value of their home, while buyers feel significantly less pressure to buy. Look for the first half of 2019 to be fairly slow as buyers sit on the sidelines waiting for price stability, but then I do expect to see a more buoyant second half of the year.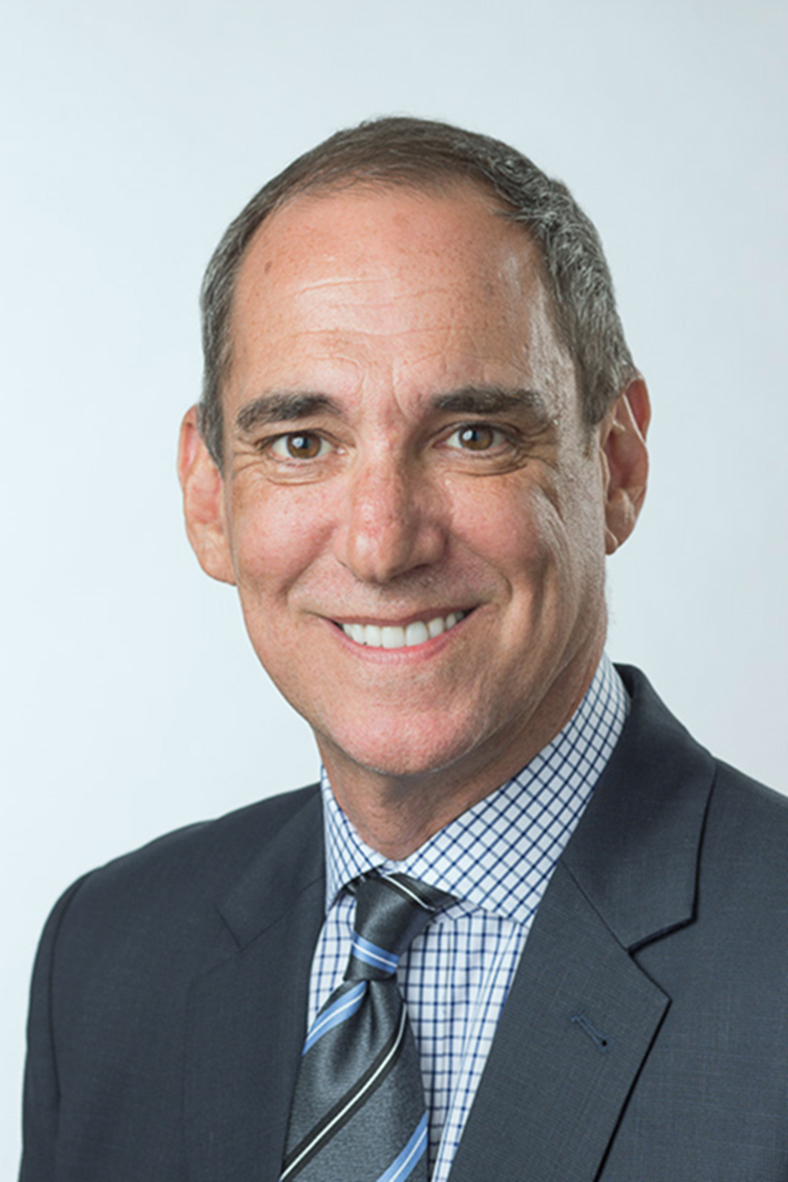 As Chief Economist for Windermere Real Estate, Matthew Gardner is responsible for analyzing and interpreting economic data and its impact on the real estate market on both a local and national level. Matthew has over 30 years of professional experience both in the U.S. and U.K.
In addition to his day-to-day responsibilities, Matthew sits on the Washington State Governors Council of Economic Advisors; chairs the Board of Trustees at the Washington Center for Real Estate Research at the University of Washington; and is an Advisory Board Member at the Runstad Center for Real Estate Studies at the University of Washington where he also lectures in real estate economics.
Posted on February 4, 2019 at 11:47 pm
Carlene Sandstrom
Category:

Buyers, Market Report, Matthew Gardner Report, Real Estate, Sellers
Tagged

Carlene Sandstrom, Eastside, Kirkland Real Estate, Live In Kirkland, Real Estate, Windermere, Yarrow Bay