When I was growing up, my family must have moved a dozen times. After the first few moves, we had it down to a science: timed out, scheduled, down to the last box. Despite our best efforts, plans would change, move-out and move-in days would shift, and the experience would stress the entire family out. Despite the stress, we always managed to settle in our new home and sell our old one before the start of school.
With a lot of planning and scheduling, you can minimize the stress of selling your house and moving. Here are some tips:
Plan Ahead
Know when you want to be moved out and into your new home and have a backup plan in case it falls through. Before you sell your home, familiarize yourself with local and state laws about selling a home so you're not caught by surprise if you forget something important.
Lists and schedules are going to be your new best friend through the process. Have a timetable for when you want to sell your house when you have appraisers, realtors, movers, etc. over. Also, keep one for when your things need to be packed and when you need to be moved into the new place. I suggest keeping it on an Excel sheet so you can easily update it as the timeline changes (and it will – stuff happens).
Use Resources
First time selling a house? Check out some great resources on what you need to know. US News has excellent, step-by-step guides on what you need to know to sell. Appraisers and realtors can also be good resources, and since you'll be working with them through the process, be sure to ask them questions or have them point you to resources.
Appraisal
Have your house appraised before you sell so you know your budget for your new home. This will help you look for an affordable home that meets your family's needs. It will also help you maximize the amount you can receive for your old home. You can also learn useful information from an appraisal, such as which repairs need to be made, if any.
Repairs
Does your house need repairs before you move? If so, figure out whether you'll be covering them, or whether your buyers will (this will be a part of price negotiations, so factor it in with your home budget). Will you need to make repairs in your new house, or will that be covered? Either way, make sure you know which repairs need to be made – and either be upfront with buyers about them or make them before you sell.
Prepare to Move
If you're moving to a new town or a new state, you need to prepare more than just a new home. Research doctors and dentists, places to eat, and what to do for fun. If you have school-aged children, look at the local school district or private school options – not only to learn how to enroll your kids, but also to get a feel for the school culture, see what extracurricular activities your kids can do, what standards/learning methods your kids' new school will implement, etc.
Packing
Think: how soon are you moving, what will you need to use before you move, what can get boxed and what needs to stay out?  The sooner you're moving out, the sooner you need to pack, but if you have time, just take a day per weekend to organize a room, pack what you want to take and arrange to donate what you want to get rid of.
Downsizing
Moves are a great time to purge old, unwanted and unused stuff from your home. Sometimes, it's necessary if you're moving into a smaller space. Either way, as you pack each room, think about whether you use what you're packing to take with you. If you do, pack it to go. If not, put it in a separate box to go to your local donations place. You can also call some organizations to have your unwanted things picked up, no hassle.
If You Have Kids
Moving with kids can be extra stressful. Be sure to include them in the process. This is a wonderful opportunity to teach younger children about moving and prepare them for the changes it brings. Older children can help out with responsibilities, like packing their room or researching their new town.
Your New Place
Moving into a new place takes some planning as well. Once you've bought your new home or condo, design at least a basic outline for where your stuff will be set up. Make necessary repairs and decorate (painting, for example) before you unpack. Ideally, you should have some time to do these things before, but if you don't, don't be in a hurry to unpack everything – it can be a hassle to paint if you have all your furniture and bookshelves up!
Staying In Touch and Making New Friends
Finally, moving can mean good-byes with family and/or friends. Social media is a great way to keep in touch with people after you've moved, but distance can still weaken these old relationships. Make some time to call or message your old friends to keep in touch. Pair that work with a concerted effort to meet new people. See what hobbies or groups are in your new area and start there. It doesn't seem like a lot, but it can make your new house a home and make your new town a community you can enjoy.
Patrick Bailey is a professional writer mainly in the fields of mental health, addiction, and living in recovery. Patrick is currently a writer for Mountain Springs Recovery as well as on his own blog.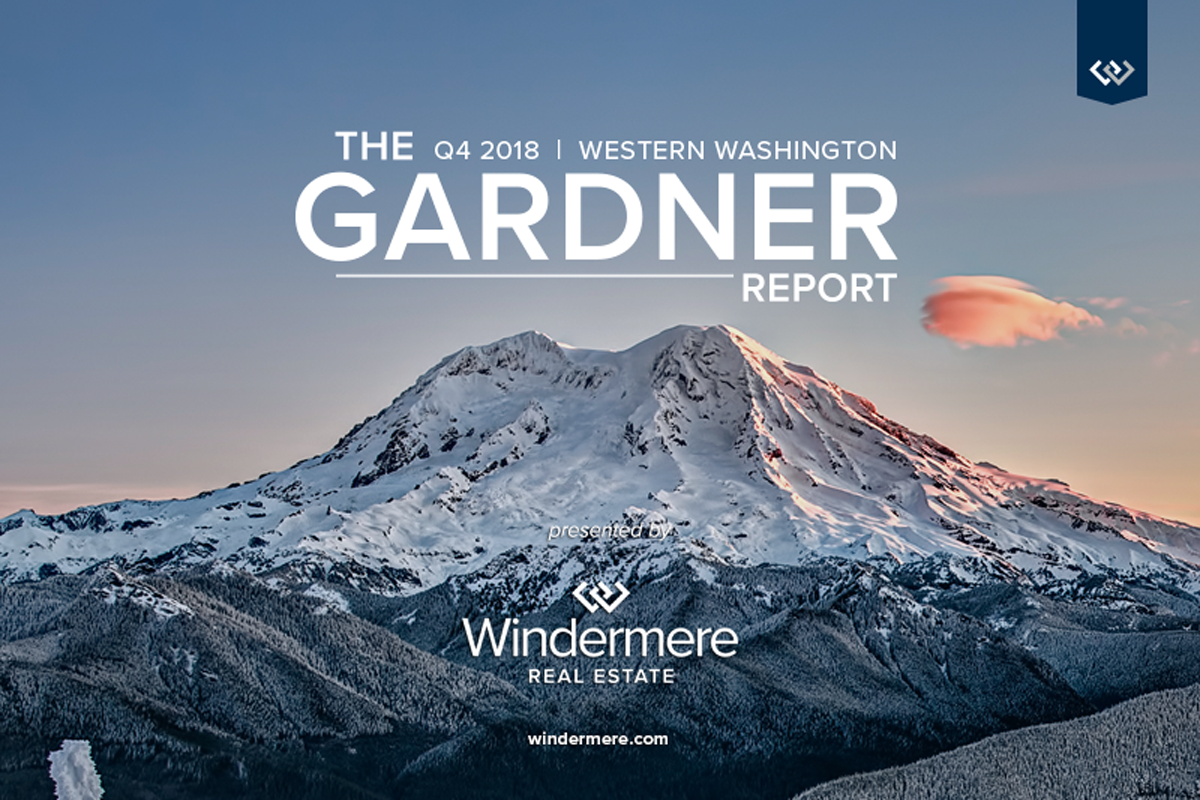 The following analysis of the Western Washington real estate market is provided by Windermere Real Estate Chief Economist Matthew Gardner. We hope that this information may assist you with making better-informed real estate decisions. For further information about the housing market in your area, please don't hesitate to me. 
ECONOMIC OVERVIEW
The Washington State economy continues to add jobs at an above-average rate, though the pace of growth is starting to slow as the business cycle matures. Over the past 12 months, the state added 96,600 new jobs, representing an annual growth rate of 2.9% — well above the national rate of 1.7%. Private sector employment gains continue to be quite strong, increasing at an annual rate of 3.6%. Public sector employment was down 0.3%. The strongest growth sectors were Real Estate Brokerage and Leasing (+11.4%), Employment Services (+10.3%), and Residential Construction (+10.2%). During fourth quarter, the state's unemployment rate was 4.3%, down from 4.7% a year ago.
My latest economic forecast suggests that statewide job growth in 2019 will still be positive but is expected to slow. We should see an additional 83,480 new jobs, which would be a year-over-year increase of 2.4%.
HOME SALES ACTIVITY
There were 17,353 home sales during the fourth quarter of 2018. Year-over-year sales growth started to slow in the third quarter and this trend continued through the end of the year. Sales were down 16% compared to the fourth quarter of 2017.​
The slowdown in home sales was mainly a function of increasing listing activity, which was up 38.8% compared to the fourth quarter of 2017 (continuing a trend that started earlier in the year). Almost all of the increases in listings were in King and Snohomish Counties. There were more modest increases in Pierce, Thurston, Kitsap, Skagit, and Island Counties. Listing activity was down across the balance of the region.
Only two counties—Mason and Lewis—saw sales rise compared to the fourth quarter of 2017, with the balance of the region seeing lower levels of sales activity.​
We saw the traditional drop in listings in the fourth quarter compared to the third quarter, but I fully anticipate that we will see another jump in listings when the spring market hits. The big question will be to what degree listings will rise.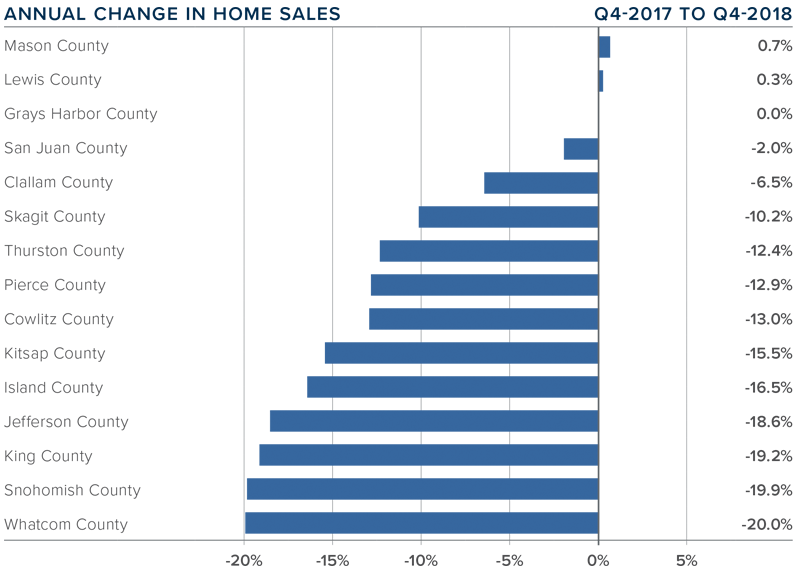 HOME PRICES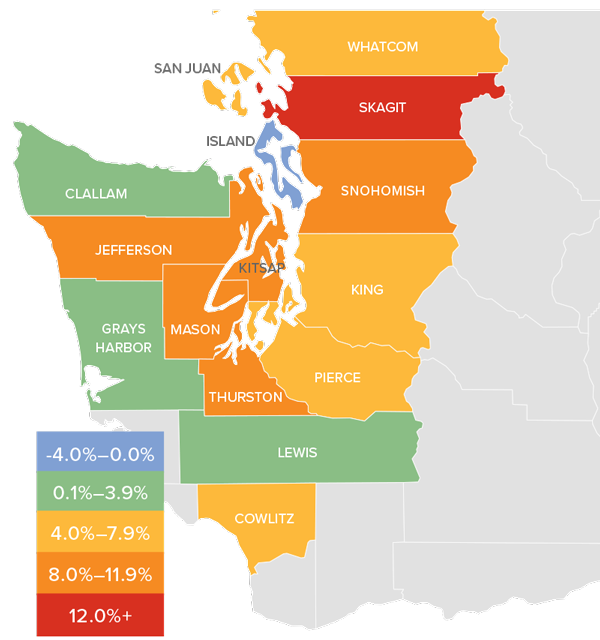 With greater choice, home price growth in Western Washington continued to slow in fourth quarter, with a year-over-year increaseof 5% to $486,667. Notably, prices were down 3.3% compared to the thirdquarter of 2018.
Home prices, although higher than a year ago, continue to slow. As mentioned earlier, we have seen significant increases in inventory and this will slow down price gains. I maintain my belief that this is a good thing, as the pace at which home prices were rising was unsustainable.
When compared to the same period a year ago, price growth was strongest in Skagit County, where home prices were up 13.7%. Three other counties experienced double-digit price increases.
Price growth has been moderating for the past two quarters and I believe that we have reached a price ceiling in many markets. I would not be surprised to see further drops in prices across the region in the first half of 2019, but they should start to resume their upward trend in the second half of the year.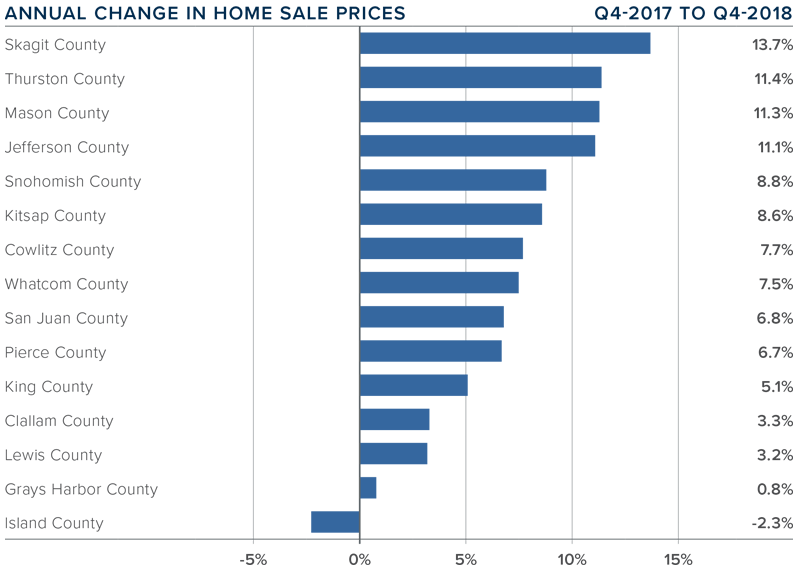 DAYS ON MARKET
The average number of days it took to sell a home dropped three days compared to the same quarter of 2017.
Thurston County joined King County as the tightest markets in Western Washington, with homes taking an average of 35 days to sell. There were eight counties that saw the length of time it took to sell a home drop compared to the same period a year ago. Market time rose in five counties and was unchanged in two.
Across the entire region, it took an average of 51 days to sell a home in the fourth quarter of 2018. This is down from 54 days in the fourth quarter of 2017 but up by 12 days when compared to the third quarter of 2018.
I suggested in the third quarter Gardner Report that we should be prepared for days on market to increase, and that has proven to be accurate. I expect this trend will continue, but this is typical of a regional market that is moving back to becoming balanced.​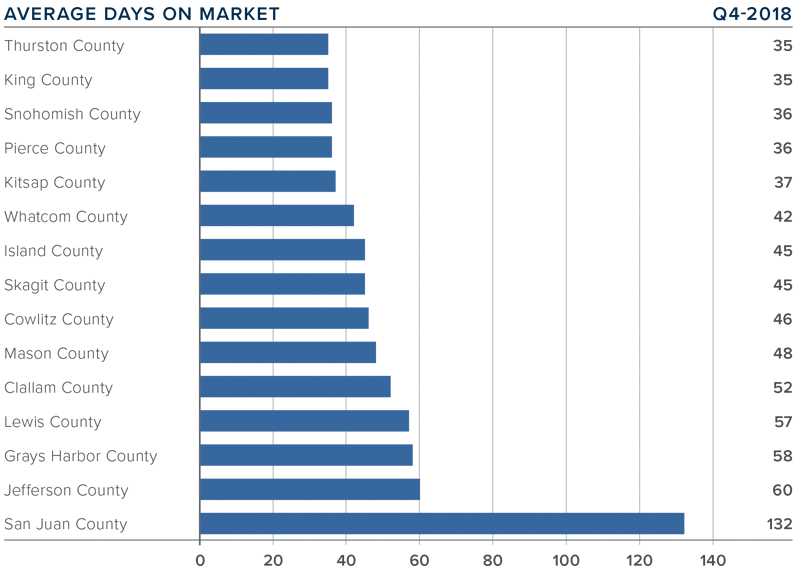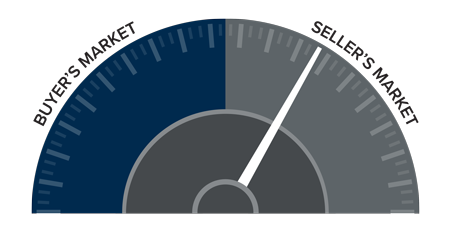 CONCLUSIONS
This speedometer reflects the state of the region's real estate market using housing inventory, price gains, home sales, interest rates, and larger economic factors. I am continuing to move the needle toward buyers as price growth moderates and listing inventory continues to rise.
2019 will be the year that we get closer to having a more balanced housing market. Buyer and seller psychology will continue to be significant factors as home sellers remain optimistic about the value of their home, while buyers feel significantly less pressure to buy. Look for the first half of 2019 to be fairly slow as buyers sit on the sidelines waiting for price stability, but then I do expect to see a more buoyant second half of the year.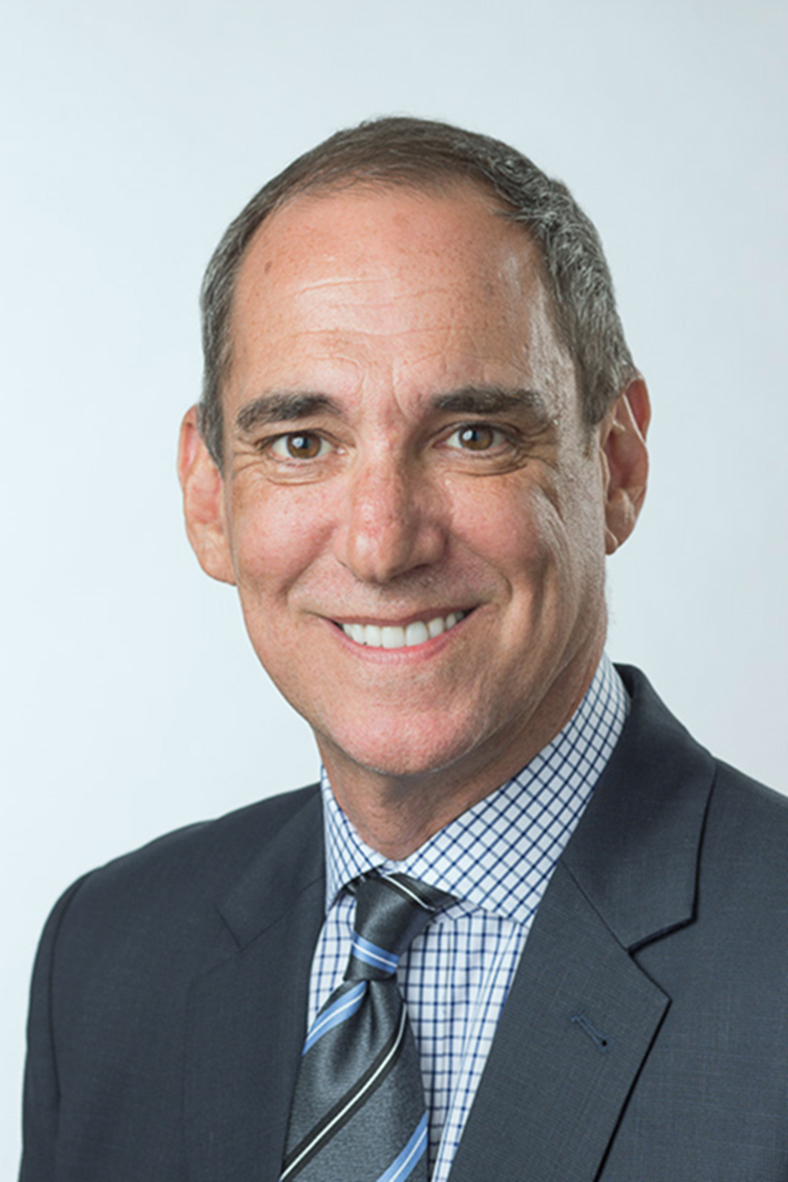 As Chief Economist for Windermere Real Estate, Matthew Gardner is responsible for analyzing and interpreting economic data and its impact on the real estate market on both a local and national level. Matthew has over 30 years of professional experience both in the U.S. and U.K.
In addition to his day-to-day responsibilities, Matthew sits on the Washington State Governors Council of Economic Advisors; chairs the Board of Trustees at the Washington Center for Real Estate Research at the University of Washington; and is an Advisory Board Member at the Runstad Center for Real Estate Studies at the University of Washington where he also lectures in real estate economics.
Posted on February 4, 2019 at 11:47 pm
Carlene Sandstrom
Category:

Buyers, Market Report, Matthew Gardner Report, Real Estate, Sellers
Tagged

Carlene Sandstrom, Eastside, Kirkland Real Estate, Live In Kirkland, Real Estate, Windermere, Yarrow Bay
As we step forward into 2019, eco-friendly "green homes" are more popular than ever. Upgrading your home's sustainability improves quality of life for those residing in it, but it is also a savvy long-term investment. As green homes become more popular, properties boasting sustainable features have become increasingly desirable targets for homebuyers. Whether designing a new home from scratch or preparing your current home for sale, accentuating a house with environmentally-friendly features can pay big dividends for everyone.
While the added value depends on the location of the home, its age, and whether it's certified or not, three separate studies all found that newly constructed, Energy Star, or LEED-certified homes typically sell for about nine percent more than comparable, non-certified new homes. Plus, one of those studies discovered that existing homes retrofitted with green technologies, and certified as such, can command a whopping 30-percent sales-price boost.
There are dozens of eco-friendly features that can provide extra value for you as a seller. To name a few:
Cool roof
Cool roofs keep the houses they're covering as much as 50 to 60 degrees cooler by reflecting the heat of the sun away from the interior, allowing the occupants to stay cooler and save on air-conditioning costs. The most common form is metal roofing. Other options include roof membranes and reflective asphalt shingles.
Fuel cells
Fuel cells may soon offer an all-new source of electricity that would allow you to completely disconnect your home from all other sources of electricity. About the size of a dishwasher, a fuel cell connects to your home's natural gas line and electrochemically converts methane to electricity. One unit would pack more than enough energy to power your whole home.
For many years, fuel cells have been far too expensive or unreliable. But as technology has improved, so too has reliability. Companies like Home Power Solutions and Redbox Power Systems have increased the reliability of these fuel sources while reducing their size. Much like we've seen computers and cell phones shrink in size while improving reliability and power, fuel cells continue to be refined.
Wind turbine
A wind turbine (essentially a propeller spinning atop an 80- to 100-foot pole) collects kinetic energy from the wind and converts it to electricity for your home. And according to the Department of Energy, a small version can slash your electrical bill by 50 to 90 percent.
But before you get too excited, you need to know that the zoning laws in most urban areas don't allow wind turbines. They're too tall. The best prospects for this technology are homes located on at least an acre of land, well outside the city limits.
Green roof
Another way to keep the interior of your house cooler—and save on air-conditioning costs—is to replace your traditional roof with a layer of vegetation (typically hardy groundcovers). This is more expensive than a cool roof and requires regular maintenance, but young, environmentally conscious homeowners are very attracted to the concept.
Hybrid heating
Combining a heat pump with a standard furnace to create what's known as a "hybrid heating system" can save you somewhere between 15 and 35 percent on your heating and cooling bills.
Unlike a gas or oil furnace, a heat pump doesn't use any fuel. Instead, the coils inside the unit absorb whatever heat exists naturally in the outside air, and distributes it via the same ductwork used by your furnace. When the outside air temperature gets too cold for the heat pump to work, the system switches over to your traditional furnace.
Geothermal heating
Geothermal heating units are like heat pumps, except instead of absorbing heat from the outside air, they absorb the heat in the soil next to your house via coils buried in the ground. The coils can be buried horizontally or, if you don't have a wide enough yard, they can be buried vertically. While the installation price of a geothermal system can be several times that of a hybrid, air-sourced system, the cost savings on your energy bills can cover the installation costs in five to 10 years.
Solar power
Solar panels capture light energy from the sun and convert it directly into electricity. Similarly to wind turbines, your geographical location may determine the feasibility of these installments. Even on cloudy days, however, solar panels typically produce 10-25% of their maximum energy output. For decades, you may have seen these panels sitting on sunny rooftops all across America. But it's only recently that this energy-saving option has become truly affordable.
In 2010, installing a solar system on a typical mid-sized house would have set the homeowner back $30,000. But as of December 2018, the average cost after tax credits for solar panel installation was just $13,188! Plus, some companies are now offering to rent solar panels to homeowners (the company retains ownership of the panels and sells the homeowner access to the power at roughly 10 to 15 percent less than they would pay their local utility).
Solar water heaters
Rooftop solar panels can also be used to heat your home's water. The Environmental Protection Agency estimates that the average homeowner who makes this switch should see their water bills shrink by 50 to 80 percent.
Tax credits/rebates
Many of the innovative solutions summarized above come with big price tags attached. However, federal, state and local rebates/tax credits can often slash those expenses by as much as 50 percent. So before ruling any of these ideas out, take some time to see which incentives you may qualify for at dsireusa.org and the "tax incentives" pages at Energy.Gov.
Regardless of which option you choose, these technologies will help to conserve valuable resources and reduce your monthly utility expenses. Just as importantly, they will also add resale value that you can leverage whenever you decide it's time to sell and move on to a new home.